Saudi Aramco tops $2 trillion, defying valuation sceptics Saudi Aramco has secured its position as the most valuable listed company in history after investor appetite for the world's biggest fossil fuel producer pushed its market value to $1.9tn (£1.4tn) on its first day of trade.
The record market listing is expected to keep rising on its second day of trade on the Tadawul stock exchange on Thursday after Aramco's share price surge was capped at 10% under rules designed to safeguard market stability.
More than 5 million investors have put aside concerns over the company's close ties to a state associated with human rights abuses, and an uncertain future for the global oil industry, to buy 3bn shares.
The Saudi state has raised $25.6bn through the float, which is regarded as the biggest single injection of capital into the fossil fuel industry, despite growing concerns over the climate crisis and the need to create a sustainable global financial system.
Aramco sold 0.5 per cent of its shares on Saudi Arabia's Tadawul stock exchange after scaling back its plans in the face of weaker-than- expected demand from international investors.
Despite the climbdown, Aramco's initial public offering (IPO) is still the biggest in history, eclipsing Alibaba's record $25bn listing in 2014.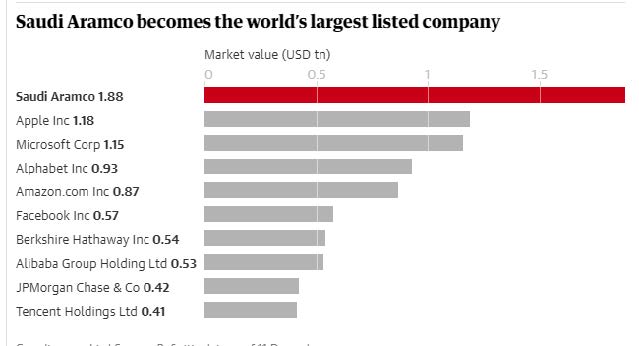 Sources: The Guardian, The Independent